Put on your rebel pants! Here's a peach cake I made–in April.
Well, late March–not that it matters. "Peaches in spring" amounts to first-degree seasonality sacrilege in this hemisphere either way, but you know what? When your momma loves peaches and has an April birthday, thou shalt do what you gotta do in order to say, "Hey, thanks for letting me hang out in your belly for nine months and doing all that other awesome stuff afterwards too. Good follow-through, ma'am."
Besides the whole mom thing, it's not really that outrageous. We have so many ways to preserve flavorful produce at its peak! We dry it. We freeze it. We freeze-dry it (whoa). We can it. We jam it. We've thought of everything.
In fact, when I was trying to come up with ways to make this cake happen–and happen peachily–it was a little overwhelming.
By process of elimination for various reasons, I decided to narrow down my peach-ifiers to three things.
1) Freeze-dried peaches. Big ups to Elizabeth for preaching the freeze-dried fruit gospel, as always. Those things really pack a ton of flavor without affecting the texture of things too much.
2) Peach liqueur. Duh, hi. I'm me. I went with Drillaud, which isn't the smoothest fruit liqueur I've ever tasted, but, you know. It's not schnapps.
3) Canned peaches in heavy syrup. These are optional, but I wanted chunks of peach between the layers, plus some on the top. Honestly, if I made this again (out of season, that is) I'd go with frozen/thawed for the in-between layer chunks, because peaches taste better without extra syrupiness. Obviously. It's just that I knew I needed some to decorate, and those bright, shiny suckers look better than anything that ever came from a freezer. I wanted to streamline this for my own sanity. You do as you please!
See? Frozen peaches can't do this.
Don't mind the shaggily-trimmed layers.
The cake itself is a Genoise sponge cake–European-style and fairly dry, which is why we douse it in syrup. Additionally, I have had no success with Genoise unless I bake it, assemble it, and let it hang out (well-wrapped/covered) in the fridge for at least a day. This one sat for two. Time allows it to get all soft/moist/Eurobakerylike. All wonderful things for a cake to be.
Also, an added bonus of spreading your cake-making into a couple of days is that it allows you to decorate in leisure. I always say YES to decorating long after cleaning up the messy, messy detritus of cake-making. I don't know about you, but a clean, quiet kitchen is so terribly soothing to me. So zen. I should probably be sleeping in a clean kitchen.
…That last part is debatable.
What isn't debatable, though, is that all those "foodie" rules about seasonal eating are made to be broken sometimes, and especially when special people have birthdays.
So there's that. I hope I don't get sent to food blogger prison for pulling such a stunt… Though to be fair, I'd probably do okay in there–not to mention that my mom would obviously be obligated to visit me.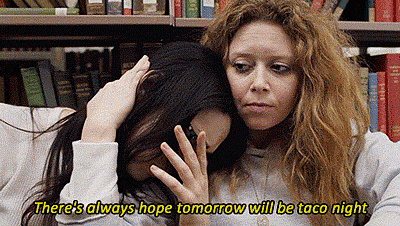 Can you imagine food blogger prison? It sort of cracks me up.
-d.
Peach Layer Cake
2014-04-03 00:43:26
Serves 12
For the cake
6 eggs
3/4 cup granulated sugar
2 teaspoons vanilla extract
1 cup plus 2 tablespoons cake flour
4 1/2 tablespoons unsalted butter, melted
For the syrup
1/3 cup water
1/3 cup granulated sugar
1/4 cup peach liqueur
2 tablespoons lemon juice
For the filling
2 teaspoons unflavored gelatin
2 1/2 cups chilled heavy cream, divided use
1.75-ounce package freeze-dried peaches
1/3 cup powdered sugar
2 cups diced peaches (fresh, or canned/drained, or frozen/thawed/drained)
For the frosting
8 ounces cream cheese
1.75-ounce package freeze-dried peaches
1/2 cup granulated sugar
1 3/4 cups heavy cream
1 tablespoon peach liqueur
For decorating (optional)
Sliced peaches (fresh or canned and drained)
Fresh mint
To make the sponge cake
Preheat oven to 375 degrees and prepare two 8-inch cake pans by lining bottoms with parchment paper.
Whisk together the eggs, sugar, and vanilla in a heatproof bowl until combined. Place the bowl over simmering water in a saucepan and continue whisking until the mixture is warm, registering about 140 degrees on a thermometer. Remove from heat and beat mixture with a mixer on high speed until the mixture is pale, fluffy and almost tripled in volume–8 minutes or so.
Sift the cake flour over the batter in three additions, folding gently to incorporate well each time. Fold a large dollop of the batter into a small bowl with the melted butter, then fold this back into the batter.
Pour the batter into the prepared pans and smooth the tops. Bake until the tops of the cakes are golden brown and starting to pull away from the edges of the pans, 15-20 minutes. Transfer the pans to a wire rack and let cool completely, then invert cakes onto racks and cut each horizontally into two equal layers.
To make the syrup
Heat sugar and water on the stove or in the microwave until sugar melts. Cool and stir in liqueur and lemon juice.
To make the mousse filling
Sprinkle gelatin over 2 tablespoons of cold water in a small bowl and let stand to soften for about 10 minutes.
Bring 1 cup of the heavy cream to boil in small saucepan, then pour over softened gelatin; stir until dissolved. Place in refrigerator to chill until cold, whisking frequently, 15-20 minutes.
Grind the freeze-dried peaches in a food processor or blender until they're a fine powder, then sift through a fine-mesh sifter. Place remaining cream, powdered freeze-dried peaches, and powdered sugar in medium bowl. Using a mixer, beat until peaks form; then, with the mixer running, slowly pour in the gelatin mixture and, again, beat until peaks form. Place in the fridge to chill while you prepare the cake for assembling.
To assemble the cake
Brush sponge cake layers generously with the syrup. Sprinkle 1/3 of the diced peaches over each layer, top with 1/3 of the mousse mixture, and carefully spread to the edges with an offset spatula. Brush the top of the cake generously with syrup.
At this point you can go ahead and frost the cake, or wrap it well in plastic to sit overnight. Either way, allow cake to rest in the fridge at least overnight before serving.
To make the frosting
Grind the freeze-dried peaches in a food processor or blender until they're a fine powder, then sift through a fine-mesh sifter. In a medium mixing bowl, beat cream cheese with the freeze-dried peach powder, sugar, and liqueur until well incorporated. With the mixer running, slowly pour in the heavy cream and keep beating until mixture can hold stiff peaks.
Frost and decorate outside of the cake as you'd like.
Notes
I found freeze-dried peaches at Target--if you can't find them there, you can look online.
Adapted from Williams Sonoma
10th Kitchen http://www.10thkitchen.com/